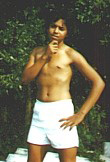 ONE DAY IN MAY OF 1981, AFTER THE LAST TRACK MEET OF THE YEAR, HE WAS CHILLING OUT IN FRONT OF THE BROOKLAND MIDDLE SCHOOL GYM. THEN HERE COMES HIS FRIEND, STEVEN DERRICOTT, WALKING DOWN THE HALLWAY WITH HIS GIRL.
STEVEN HOLLERS AT HIM, "WHAT'S UP ELBRADVADOR"?
ELBRAVADOR TURNED AND SAID, "WHAT DID YOU CALL ME?" STEVEN SAID ONCE AGAIN," ELBRADVADOR". NOW AT THE TIME HE WAS LOOKING FOR A DJ NAME. HE GOT SUGGESTIONS FOR NAMES LIKE, "MELLO YELLO, VANILLA WAFER, AMONGST OTHERS REFERRING TO HIS SKIN COMPLEXION. BUT HE KNEW A UNIQUE NAME WHEN HE HEARD ONE. STILL THERE WAS SOMETHING THAT DIDNíT SIT RIGHT. SO HE SAID, "DROP THE D, AND NOW SAY IT. SO STEVEN SAID, "ELBRAVADOR? "THATíS IT" ELBRAVADOR SHOUTED. THAT'S MY DJ NAME. STEVEN THOUGHT THAT BRAVADOR WASNíT SERIOUS, BUT HE WAS. AND TO THIS DAY HE STILL GOES BY THE NAME ELBRAVADOR, THANKS TO HIS FRIEND STEVEN DERRICOTT. Steve, I OWE YOU.